Color 1B/27 Goddess Box Braids 13x4 Lace Frontal Wig
Save Time & Money!
Do you hate sitting for hours but LOVE braids? Well.... this unit is perfect for you! You can get the perfect braided look in less than 15 mins from Braids Queen!
High Quality

100% kanekalon fiber

Fast Shipping

Free shipping via Express

Fast Service

Professional response

Easy Returns

Refund guaranteed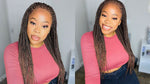 Braids always in fashion. Many ladies love braids, but for some of the reasons, they can't get braided, worry about loose edges, or don't have...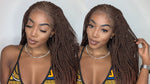 How to style your braided box braids Braided box braids are considered as the most protective and long term style that provide a classic look...
" I received my wig and honey I am in love ..Thanks Braids Queen you have made me out of a believer. I'm ordering 2 more... I will never pay to get my hair braided again!"

- Shawanda Eugley

"I absolutely love this wig, I get compliments on a constant. I've had dreadlocks for two years so being able to wear braids is something I missed ! Thank you braid queen !! The elastic band allows for an easy and glueless instal, which is perfect for me to remove nightly. "

- Zee Stubbs

"Let me tell y'all how I never purchased a wig before. I was very skeptical of purchasing a wig online. I finally broke down and made a purchase and I love it.... the install was super easy, looks like I sat in someone's chair four hours and nobody believes me when I say it's a wig. You will not be disappointed. This was my first wig purchase and can't wait for more options so I can buy another one."

- Latoya

"I'm loving my wig. People think I got my hair braided. It also came fast. I will order more!"

- Mary

"I received mine it is gorgeous soft plus I got some little decorations to put on my braids the packaging was really nice they have the lace in a protective styrofoam that was cool first time ever seeing that. You will love it I got the ombre one there's also a black one and it touches your butt that's how long it is"

- Angela Harmony

"I have heard horror stories of wigs on facebook but their wigs are so on point.. Their lace is amazing. I will be buying more from the company also the shipping was very fast!"

- ‎Sequona Williams‎

"Installed my new unit today, absolutely love. Legit company, fast delivery!!!"

- ‎Armesha Futrell‎

"I always liked braids and wish I could wear my hair in a braided style; however it's not conducive to my work or in compliance with my uniform. I saw a Braidsqueen advertisement and took a chance. I am so glad I did. I received compliments and I just had to share with those who asked, how many hours did that take. 😉. I shared the website and said "you too can achieve this look." I love the flexibility of changing up my looks on my off time and now I have a new one. I am satisfied."

- Deborah Francis