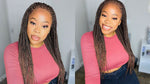 Braids always in fashion. Many ladies love braids, but for some of the reasons, they can't get braided, worry about loose edges, or don't have much time deal with their own hair.
Plus summer is here now, how to effortlessly get a braid look becomes commonly asked question.
So, here we recommend you a perfect alternative Braided Wig helps you solve this problem.
Why should Invest It?
Firstly, according to statistics, 3 out of 5 ladies start rocking the braided unit. It's obviously a TREND.
Secondly, synthetic wig hair fibers are lighter and don't collect as much liquid as human hair. It will keep you cooler and feel lighter on your head in the summer season.
Besides that, here are some notable benefits that you need to know.
With the above benefits, you can easily achieve a braid look, no time & money waste, no tension on your head, that's why we strongly suggest you invest a braided wig.
How do I install it?
Here is a tutorial video from our beauty @dizastrousbeauty, let's get this learning now!
https://www.facebook.com/103890491147246/posts/164247028444925
Same Unit Different Colors
 
We hope all ladies can easily Rockin braid look without any stress or worries. Just be charming and gorgeous during the summer! Go get it now!
Model Wig link:
https://www.braidsqueen.com/products/100-hand-braided-free-part-box-braid-cornrow-13x5-braided-lace-wig?variant=33862516670599