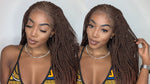 How to style your braided box braids
Braided box braids are considered as the most protective and long term style that provide a classic look and can be worn on special occasions and on a daily basis. Regardless of whether you are going for an event, wedding or in your office, braided box braids are the best alternative. The following is a description of various styles that will give you an awesome and stylish look while wearing the braids:
Maze style
Use a stretchy and a big headband to keep all the hair together in a box style. Make sure that the band is not in any way pulling your braids and you can to hide the band by the style.
High bun
Separate your braids into two sections and twist them until you form a bun. You are recommended to use a pin to secure the bun.
Heart bun

Separate pieces of braids, twist them to the end and tightly secure them. This style will give you a pretty look although you will take a lot of time to make it.

If you are looking for the best braids that come with affordable price, look no further! We at
https://braidsqueen.com//
have a wide range of high quality braids that will give you a classic and an elegant look.
https://www.braidsqueen.com/products/braids-queen-100-hand-braided-twist-braids-ombre-color-side-part-cornrow-13x5-braided-lace-wig